Image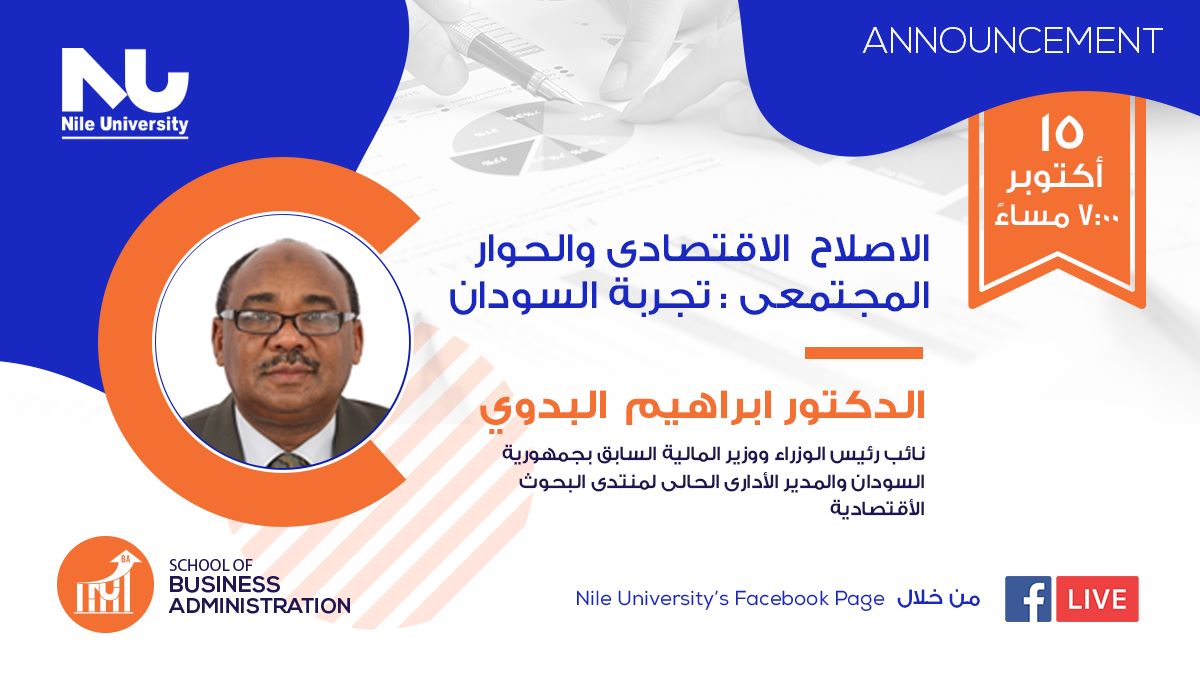 Dr. Ibrahim Ahmed ElBadawi Webinar
Dr. Ibrahim Ahmed ElBadawi Live Webinar
Dr. Ibrahim Ahmed Elbadawi's live webinar included a talk on "Economic Reform and societal dialogue: The Sudanese Experience," followed by questions and discussions. The webinar was live-streamed on Nile University's Facebook page on Thursday, 15 October 2020, 7:00-9:00 pm, Cairo time.
Professor Ibrahim Elbadawi's Bio: Managing Director, The Economic Research Forum for the Arab World, Iran & Turkey (from January 2017- August 2019; August 2020- present). Minister of Finance and Economic Planning, Republic of Sudan (Sept 2019-July 2020). Professor Emeritus, University of Khartoum. Before that, he was Director at the Economic Policy & Research Center, the Dubai Economic Council (2009-2016); Lead Economist at the Development Research Group of the World Bank, which he joined in 1989; and Professor of economics at the University of Gezira in Sudan. He holds a Ph.D. in economics and statistics from North Carolina State and Northwestern universities in the USA.
While working at the World Bank, he served as Research Director of the African Economic Research Consortium (Nairobi, 1993-1998) on external leave from the Bank. He has edited 13 books and special editions of refereed journals and published about 90 articles on macroeconomics, growth and development policy, democratic transitions, and the economics of civil wars and post-conflict transitions. His regional specialization covers Africa and the Middle East. He is also a (non-resident) research fellow with the Center for Global Development.
Dr. Elbadawi is the editor of (with Hoda Selim) Understanding and Avoiding the Oil Curse in Resource-rich Arab Economies (Cambridge University Press, 2016); and was the editor (with Samir Makdisi) of Democratic Transitions in the Arab World. (Cambridge University Press: 2016) You can watch the live webinar in the video below: